Airbrushing a Sailor Jerry Tattoo Sleeve can be an impossible task or it can be instant gratification. It all depends on how you approach the job! When doing an airbrush sleeve using Faux Tattoo Stencils, we're starting in a strong foot using actual tattoo art in the form of an airbrush tattoo stencil. We created this collection early on so it's one of our oldest and favorite sets to use and wear.
In this case, we did a lot of research on Sailor Jerry, how he fits into tattoo history, and also the more important elements of his iconic style.
A bit of historical context for Airbrushing a Sailor Jerry sleeve: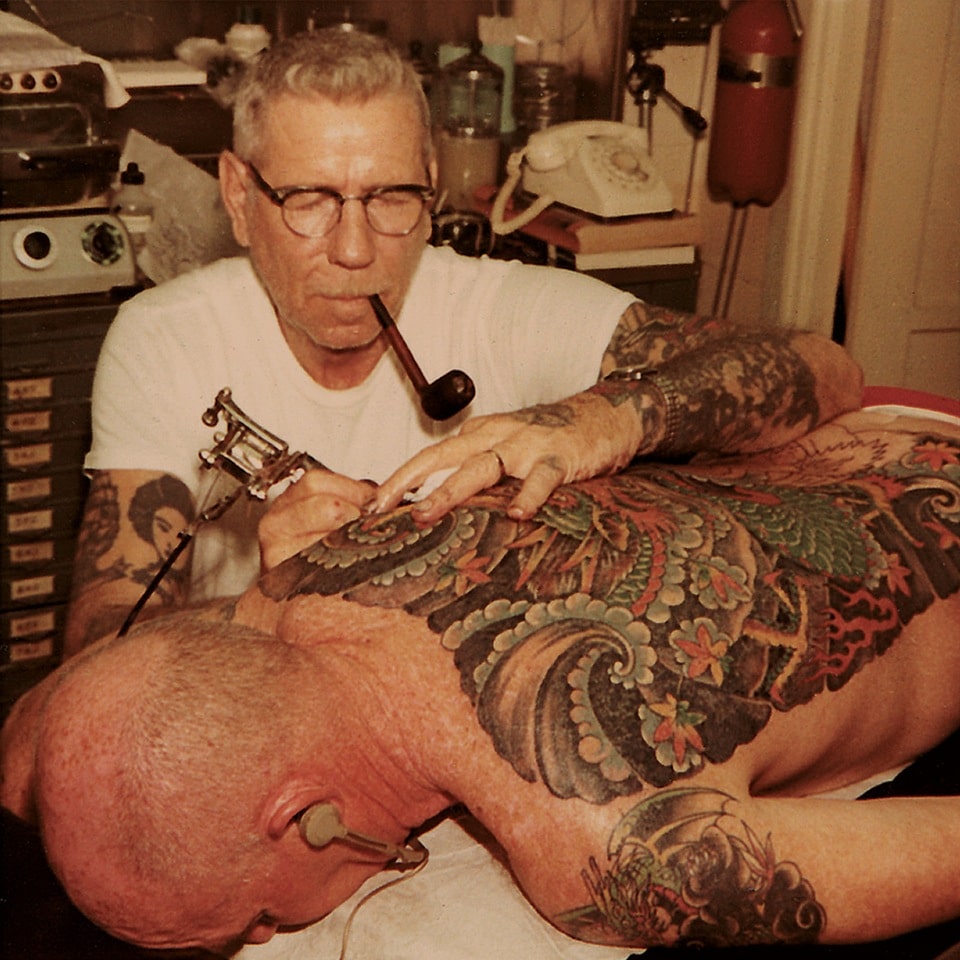 Sailor Jerry was a pioneering tattoo artist whose work defined the post-WW2 tattoo era. He made significant contributions to the art of tattooing, expanding the array of colors available by developing his own pigments. He even tested these inventions out on himself! SJ created custom needle formations that embedded pigment with much less trauma to the skin. He became one of the first artists to utilize single-use needles. His tattoo studio was one of the first to use an autoclave to sterilize equipment.
Collin's last studio was at 1033 Smith Street in Honolulu's Chinatown.
Some of Sailor Jerry's most well-known designs were:
Bottles of booze 

Snakes

Wildcats

Eagles, falcons, and other birds of prey

Swallows

Nautical stars

Classically styled scroll banners

Knives, guns, and other weapons

Dice

Anchors

Hawaiian themes

Pin-up girls
Sailor Jerry's influence on the art of modern tattooing and tattoo culture is widely recognized. Sailor Jerry wanted at least one of three protégés/friends – Ed Hardy, Mike Malone, or Zeke Owen – to take over his shop (or else burn it) when he died. Sounds like one tough cookie. we were inspired by his work early on and began creating this SJ-themed collection for our FX tattoo kit all the way back in 2012 and we've been adding to it ever since! Check out more of his original art style below and get inspired!
Speaking of Ed Hardy, we will tackle Ed Hardy's iconic style, which is similar to Sailor Jerry's style, since he apprenticed with him. Ed Hardy has his own style along with Lyle Tuttle so there's still plenty of future inspiration for our classic tattoo collection. We're only just getting started here because these styles make great character tattoos for film. 
We're so excited to show you what's possible with an airbrush so check out the video we created showing the airbrushed application of this amazing sleeve! Airbrushing a Sailor Jerry Tattoo Sleeve couldn't be easier with a little guidance and Faux Tattoo Stencils!